The Edge
by
A.man.I
I had an unexpected visitor from Tampa last week, my friend Patrick Sneed. He's the Program Director for the
Tampa Heights Junior Civic Association
(THJCA), a grassroots non-profit community organization based in Tampa.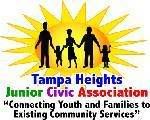 Pat didn't always work for the community. He was raised in the College Hill public housing community, on Tampa's East side. In his younger days, the lure of the dope game was too tempting. "The money, the cars, and the females," he said, reflecting back.
Pat dropped out school in the seventh grade, but later realized he was on the wrong path after he blew $6,000 dollars in one weekend during Black Spring Break in Daytona. That's when he decided to take some positive steps.
He seems to be on the right track now. For the past two years, Pat's worked as the Program Director for the THJCA. He serves more than sixty kids from the neighborhood. He not only handles all of the daily administrative duties, he also organizes, and supervises field trips, and tries his best to be a positive example to the kids he is responsible for. He says he does it for the kids, not the money.
Pat is also focused on his education. At age 32, and after years of extra school work, he'll receive his diploma (not a g.e.d) soon. He plans to attend a community college, and his goal is to obtain a four-year degree.
That's what I call a RIGHTeous brotha. Keep it up Pat.
He shares his light below.
Labels: organizations, THJCA