Words that Changed a Nation
by
A.man.I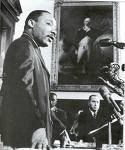 This weekend,
CNN
will air a moving documentary that examines the writings of Dr. Martin Luther King Jr. His inspiring speeches and sermons began as hand written thoughts that he penned on scraps of paper, and volumes of notepads, which reveal his thoughts, fears, goals, and doubts as he rose to greatness.
The Executive Producer of the documentary Jeff Reid says, "As journalists we all hope at least once in our careers we work on a project that will have an impact. Over the last 26 years I have been blessed to have worked on quite a few. However, for the past several months I've been working on a documentary with Soledad O'Brien I believe is exceptional, but I want you to be the judge."
Reid is encouraging families to watch the special, which airs this Saturday and Sunday at 8pm and 11pm EST.
Labels: black history