Here's to the Champions
by
A.man.I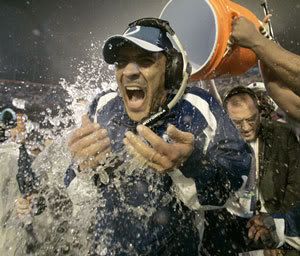 You don't have to be a sports fan to appreciate
Super Bowl XLI
. The game was for the history books. For the first time two Black Head Coaches, Tony Dungy (Colts), and Lovie Smith (Bears), let their teams to football's biggest game. When it was all over, Dungy, and the Indianapolis Colts, were rewarded with the coveted Lombardi Trophy.
It's been quite a ride for Dungy. He represents a different breed as far as head coaches go. He talks openly about his Christian faith. When he coached the Tampa Bay Bucs, he was often criticized for not being emotional, and even though he quickly turned the Bucs into winners, he was fired in 2002 when he failed to reach the Super Bowl. His successor John Gruden, got all the glory the following year when the Bucs won it all, but it's been argued that Gruden won with the team Dungy built.
After he became the head coach in Indianapolis, his family was dealt a tragic blow in 2005, after his 18-year-old son committed suicide. Dungy stood by his faith, and family, and never wavered.
So there he stood, on the sidelines of a drenched Dolphins Stadium. He watched the Bears score on the opening kickoff, but it wasn't time to panic. This was his time to shine, and when it was all over, he and his team were crowned champions. Congrats to Dungy, the first African-American Head Coach to win a Super Bowl.
Sometimes the good guys do win.
Dungy speaks about his faith and family below.
Courtesy
Athletes in Action
.
Watch part 1 of the video
here
.
Labels: sports