A Call To Lead
by
A.man.I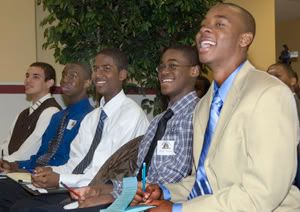 Courtesy Kennesaw State University
Nearly 200 African American high school students from the Atlanta area learned lessons about leadership, networking, and the importance of higher education, at a first of its kind conference at Kennesaw State University on Tuesday, January 30th.
H.E. "Doc" Holliday, Ph.D., organized the Men of Distinction Leadership Conference because he says public schools are doing a poor job of educating male students and preparing them for college.
According to college enrollment
reports
, black women outnumber men 1,266,107 to 686,615. "We have more and more dropping out, or in jail, than we do in college today," explained Holliday.
It's a nationwide problem, said KSU President Dr. Dan Papp. Two years ago the university started the African American Male Initiative program to not only attract males, and keep them in school through graduation.
"By bringing students in high school, students who are performing well, to college campuses, in this case Kennesaw State, we are providing opportunities for them to understand what college life is all about," explained Papp.
Tuesday's workshop included a speech from motivational speaker Mike Howard, who stressed the need for male leadership. The students then broke into smaller groups were they were mentored by KSU students who explained the importance of networking, mental and physical wellness, and politics.
Theodore Bullard, the NAACP Student President at KSU, told the group they all should all be politically involved, and encouraged them to organize voter registration drives at their schools. "I hear people talk about grassroots, the grassroots is the young people," said Bullard.
After lunch, the participants learned about college financial aid, and how to avoid some of the obstacles that prevent students from finishing. The students were hand picked from roughly 20 area high schools because of their strong leadership qualities.
Holliday said the public school system is doing a terrible of job of educating students across the board. "We can't wait for others to resolve the problem," he said. Holliday is an Assistant Professor at KSU who spent four decades working in public schools. "We have to empower young people, teach them, train them empower them, to resolve issues themselves," he said.
The lessons seemed to reach listening ears. Matthew Crowley, a junior at Kennesaw Mountain Valley High School said, "I think it's great. I'm glad we had the opportunity to be here."
Crowley is already involved in a peer mentoring program at his school. "I wish we could get some more men from our school to be here. Hopefully we can take this information back and gather with the rest of our group, and make a difference," he said.
Doc Holliday's
website
.
Watch video below.
YouTube
version
Download
video
Labels: education