A Bangin' Documentary on HBO Tonight
by
A.man.I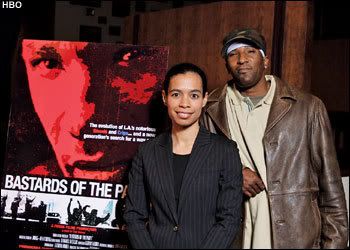 HBO's Jackie Glover with "Bastards of the Party" director Cle Sloan
"Bastards of the Party," gives an inside look at the rise of LA's notorious Crips and Bloods gangs. The picture was directed by Cle "Bone" Sloan, a now inactive member of Athens Park Bloods. Sloan's father died when he was four, he joined the Bloods at 12, but didn't begin to question his violent path until saw the name of his gang mentioned in a book he was reading while in jail.
Sloan eventually beat the murder rap, and continued to "bang," until former football star, and activist Jim Brown, helped him land a PA job on a movie set. Sloan eventually met movie producer Antione Fuqua, which lead to an appearance in "Training Day." This opened the doors for other acting film production jobs.
Fuqua then decided to help finance Sloan's documentary. Fuqua is quoted in
Variety
as saying,"I'd seen too many shrines in South Central and thought it was worth asking where the first bullet came from that started all this violence."
Sloan interviewed early gang members to trace the history of Southern California's gang movement, back to the 1940s, and follows its evolution through the politically charged 60's and 70's and on through the brief truce that occurred after the 1992 LA Riots.
Bastards of the Party airs tonight (Feb. 6) at 10pm on HBO.
-
Variety
article
Link
to trailer (be patient while loading)
Labels: documentary