White College Students Celebrate Black Culture
by
A.man.I
College students have been celebrating black culture by having parties in which they wear black face, don dew rags, grills, and show off big butts. Blogger
EricaBarnett
writes that UConn law students "celebrated" Dr. Martin Luther King Jr.'s birthday by hosting a "Bullets and Bubbly" party.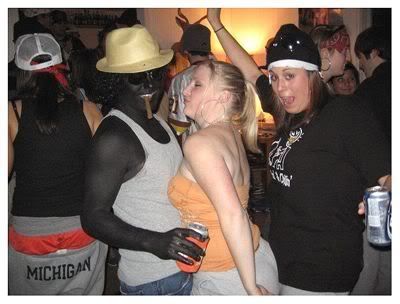 That was followed up with a "Living the Dream," party at Clemson that was held the day before the slain civil rights leader's birthday. That is not a brotha in the pic if you didn't notice. The students apparently posted the pics on Facebook, and
The Smoking Gun
has also reported the incidents.
It's unfortunate that this is what these students think Black culture is all about.