Dreamgirls (Pt. 2)
From
A.man.I
&
The AJC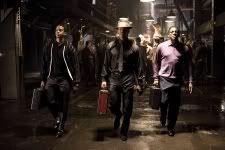 The movie "Dreamgirls," got plenty of hype before it opened on Christmas day, and so far it's done well at the box office. Over the New Year's weekend, the movie was among the top three in ticket sales. "Dreamgirls" made about $18 million behind Will Smith's "The Pursuit of Happyness" ($25 million), and "Night at the Museum" ($48-million). Not bad when you consider "Dreamgirls" is being shown in only 852 screens while "Night at the Museum is being shown on 3,768.
Though I enjoyed the movie, some of my friends have been more critical of the plot, and story line. If you haven't seen it yet, it's a musical, so expect a lot of singing, and take it for what it is. It has a Motown feel, the story parallels Diana Ross and The Supremes, and there are a few turns along the way.
In a previous
post
, I featured an interview with actor Keith Robinson who plays CC (a songwriter and brother of Effie - Jennifer Hudson). Here's part 2 of the interview. We talk about being a role model, and he shares some advice for aspiring actors.
YouTube
version
Download Video
Labels: dreamgirls, hollywood, keith robinson, movies