This is for The Gator Nation
From
A.man.I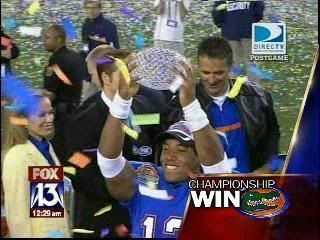 Courtesy WTVT-TV (Fox 13)
"If you're not a GATOR... You're GATOR BAIT!"
Now, I must admit, the kickoff return by The Ohio State University was a shocker, but as I watched the game with a group of Gainesville natives, and UF alumni in Marietta GA, we all sensed the Gators were about to chomp.
For the second time in months, the Gator Nation can proudly proclaim, "It's great to be a FLORIDA GATOR." The game was for the history books, UF is now the first school to hold basketball and football national titles, and if you don't know about dem Gators, you don't want to know about em. The cherry on the top is Chris Leak being named the game's MVP.
This morning, I did a
phoner
for WTVT-TV (
Fox 13
)
Charley Belcher's "off the chain"
report
MyUrbanReport is below.
Labels: BCS, Florida, Gators, national championship, sports