A Circus With Soul
by
A.man.I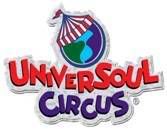 If you're looking for great family entertainment with soul, don't sleep on the
UniverSoul Circus
. The circus is in its fourteenth year, and going strong. It's founder Cedric Walker says people thought he was crazy when he came up with the idea. He lost investors, and a lot of folks didn't think a hip-hop circus would work. He never lost faith however, and his dream has become a success story.
I attended my first UniverSoul Circus in Washington D.C. ten years ago and it changed my life... That's a whole 'nother story though.
Watch and hear Walker's story below.
Labels: entertainment