Atlanta Activist Shares Trump's Spotlight
by
A.man.I
Atlanta activist, and motivational speaker Orrin Hudson is continuing to make big moves. During The Real Estate and Wealth Expo in Atlanta, he was invited to share the stage with Donald Trump.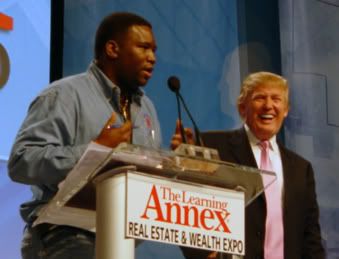 According to
Black Star News
, Hudson was sitting in the front row listening to Trump's keynote address when "The Donald" noticed Hudson, and asked him to step on stage. Hudson apparently "wowed" Trump when he recited the real estate Tycoon's rise to success without a hitch.
Hudson's personal mission is to inspire the youth through his non-profit organization called "
Be Someone
." He teaches kids and adults life skills through the game of chess. He's also written a book entitled, "One Move at a Time." Additionally, The
Atlanta Journal Constitution
featured his story in this past Sunday's edition.
Hudson's a great role model, and he's been getting plenty of well deserved attention from the media.
Labels: community leader